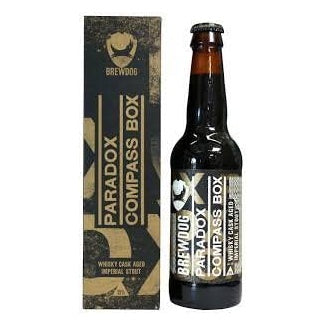 Imperial Stout | 330ml | ABV 15.0%
Paradox is our ode to barley. It tells the story of two kernels, who lived different lives, with a common purpose. It's almost poetic.
One took the path of beer; it was malted, roasted, mashed into wort, and became a teeny part of an imperial stout. One took the parts of whiskey; malted, mashed, eventually making its way into a blended Scotch. Eventually, fate threw them together for six Long months, when we aged our awesome Paradox stout in Compass Box whiskey barrels.
Chocolate, fragrant orange, coffee and smoke combine in Paradox Compass Box; in this twisted but mellow stout, our two little barley grains (and all their friends) became more than the sum of their parts.